Today is Dussera, also known as Vijaya Dashami.
This day is the end of Navaratri.
It is one of the most auspicious days to start something new.
You could learn a new language, such as Sanskrit, a musical instrument, Indian classical singing, reading a scripture, learning a new prayer, performing a set of good actions and so on.
For your consideration:
Dussehra significance:
Victory of Durga Mata over Mahishasura:
Some of the demons, or Asuras, were very powerful and ambitious and continually tried to defeat the Devas, or Gods , and capture Heaven. One Asura, Mahishasura, in the form of a buffalo, grew very powerful and created havoc on the earth. Under his leadership, the Asuras defeated the Devas. The world was crushed under Mahishasura's tyranny, the Devas joined their energies into Shakti, a single mass of incandescent energy, to kill Mahishasura.
A very powerful band of lightning emerged from the mouths of Brahma, Vishnu and Shiva and a young, beautiful female virgin with ten hands appeared. All the Gods gave their special weapons to her. This Shakti coalesced to form the goddess Durga. Riding on a lion, who assisted her, Durga fought Mahishasura. The battle raged for nine days and nights. Finally on the tenth day of Ashvin shukla paksha, Mahishasura was defeated and killed by Durga.
Hence Dasha-Hara is also known as Navratri or Durgotsav and is a celebration of Durga's victory. Durga, as Consort of Lord Shiva, represents two forms of female energy – one mild and protective and the other fierce and destructive.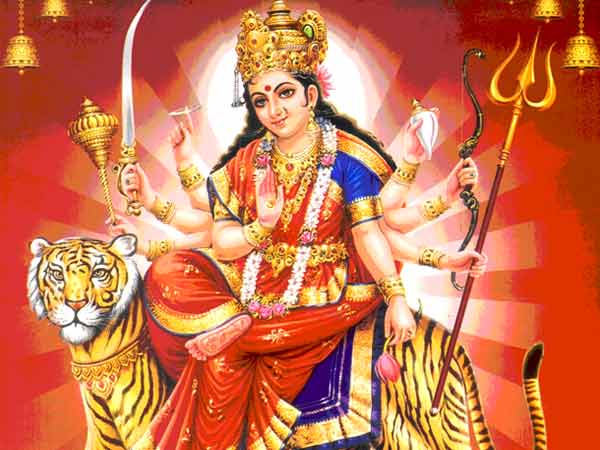 ===========
Victory of Rama Bhagawan over Ravana:
On this day in the Treta Yug, Rama, also called Shri Ram, the seventh incarnation of Vishnu, killed the great demon Ravana who had abducted Rama's wife Sita to his kingdom of Lanka. Rama, his brother Lakshmana, their follower Hanuman and an army of monkeys fought a great battle to rescue Sita. The entire narrative is recorded in the epic Ramayana, a Hindu scripture.
Rama had performed "Chandi Homa" and invoked the blessings of Durga, who blessed Rama with secret knowledge of the way to kill Ravana. On the day of Ashvin Shukla Dashami, Rama's party found Sita and defeated Ravana. Thus it is termed as Vijaya Dashami. Based on the inferences from Balmik's Ramayana, Kalidas's Raghuvans, Tulsidas's Ram Charit manas, and Keshavdas's Ram Chandra Yas Chandrika as well as common perception in India, Rama, Sita, and Lakshmana returned to Ayodhya on the 30th day of Ashvin (19–20 days after Vijayadashmi). To mark the return of Lord Rama, in the evening, the residents of Ayodhya lit their city with millions of earthen lamps (called Deepak). Since then, this day is celebrated in India as Deepawali or Diwali.